March On! -- March 2007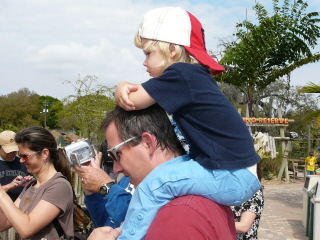 Family Stuff – Fitting It In
The phenomenon of our jam-packed calendar has amazed us. On the boat we avoid having a schedule like the plague. Yet in the States, if we didn't have our little book, we'd be lost! And whenever a few boxes gape open, it seems we can't resist filling them up.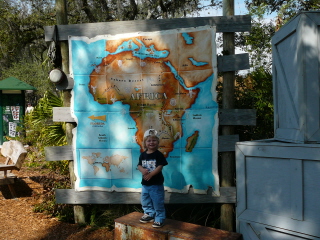 Given that the reason we come back to the States at all is to be in the lives of our family, it may seem that we have not spent as much time with them this year, at least with the kids. Well, it's been all part of a new strategy, which is to give the kids space to live their own lives and nip in every few weeks or so for quick and intense visits. Of course not only does this enable them to live their own lives, but it has left us time to build a Florida life of our own.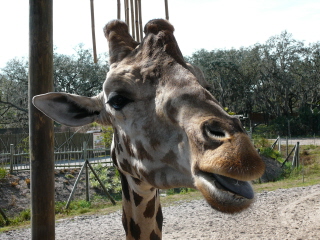 February ended as it began with a long weekend parked in the kids' side yard. The highlight of this visit was our annual trip to the Lowry Park Zoo in Tampa. This year we were much shrewder and purchased the annual family pass so the kids can take Kai back over and over during the year. The zoo is always a big hit with Kai, and this year at two he was definitely more engaged. He likes the monkeys, and the mama and baby elephant, and he rode the camel with Mommy and Gz. But his favorites, I think, are the giraffes, who at Lowry Park will come right up to you and take crackers from you hand. There's a picture somewhere of me about Kai's age pressed up to an iron fence with a tall giraffe up against his side. Zoos have come a long way.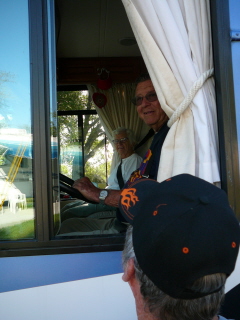 We were back at NCL just a few days when Don's folks pulled in to park right across the lane from us for three weeks. They had spent a couple of days on their way north in Clearwater visiting with the kids before coming on up to Crystal River. Our part of Florida is too cold for their idea of a snowbird winter, but it makes a perfect staging location in March when things have warmed up but they're not yet ready for Indiana.
I think Don and I had imagined that our pace would slow down in March, that we would hang about the whole month, lolling in our deck chairs (catching up on our tans), swapping dinners and catching the ice cream socials with Gma and Gpa, and riding the Harley. In fact, our schedule remained about as hectic as before. Suddenly the weeks were counting down to our return to Tackless II, and we still had parts to order for the boat, annual checkups to the doctors and dentists to get through, and, with the tentative approach of spring, some homeowner obligations in the maintenance of our plot of dirt.
In the midst of it all a spontaneous family gathering on my side of the family came together when my Vermont sister Jo flew down to visit my North Carolina sister Cecily for a week. Jo's daughter Katie and husband Jason, who live just a few hours away in Columbia, SC,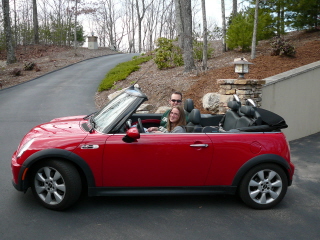 were coming up for the weekend, so we decided to make it a full house. Leaving the coach behind this time, we made fast tracks up in the more fuel-efficient Saturn and stayed for about five days.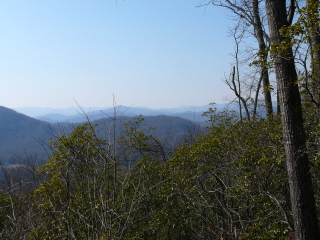 Is the weather always perfect in these mountains? It sure seems that way to us. After our visit in October, we'd pursued by email a few leads on real estate in the area, thinking someday we might want a mountain getaway. We spent our first day in Hendersonville with a realtor checking out the best leads, and when the last one caught our fancy, it made for a nice family activity to take everyone out there for their opinion. A retreat with a nice mountain vista in an area with hiking, golf, and –oh, my – some rather tempting motorcycle roads, could make a nice complement to our Crystal River pied-à-terre. And in case I'd forgotten the appeal of having some cultural activities to ice the cake, my brother-in law Bob, who is on the board of the Hendersonville Symphony, took us all to hear their performance of the Brahms Requiem on Saturday night.
Sadly, it's worked out that our great find wasn't meant to be. While we tried to clear up some confusion on just where the property boundaries were, a better informed buyer got a bid in on it before us. It's probably just as well. We are already living life with a foot in two spheres (quite literally in two hemispheres!), and adding a third, even one conceived as an investment for the future, might have been more than our circuits could take.

Soggy Paws Wedding via a Cross Florida Ride
On March 24, after the Saturday morning pancake breakfast here in NCL with Gma and Gpa Wilson, we loaded up the motorcycle with our new biker suitcase and set off for our first overnight trip. Our destination was again Melbourne, and the trip combined the pleasure of our first long ride to actually go somewhere with the honor of being on hand for the wedding between our two friends Sherry Beckett and Dave McCampbell.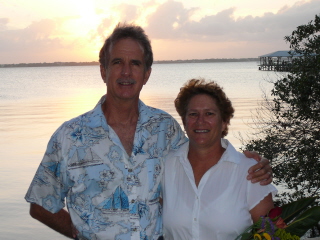 It is a mighty fine feeling to witness two people you like, whom you actually introduced, who have the special dream of cruising, commit themselves to one another. It was lovely informal occasion bringing together a gathering of friends and family for a sunset ceremony on the shore of the Intracoastal. A nice reception follow in a friend's back yard, put together largely by the all-woman racing team Sherry is leaving behind. Appropriately, the newlyweds spent their wedding night aboard Soggy Paws in the canal out back, while we, Sherry's daughter, and another guest divided up the accommodations of the condo.
Our ride across the state on shady rural routes crossing above Orlando had been great. Getting back by way of Lakeland where we'd planned a lunchtime rendezvous with former cruising friends Mac and Sam proved to be a bit more problematic. Wishing at almost any cost to avoid Rte 4 and its sweep by Disney World on a Spring Break Sunday, we laid out a route staying south that we hoped would keep us clear of the stop-and-go traffic of Kissemee and Lakeland. Much of the ride was idyllic, with the air laced with the heavy perfume of flowering citrus groves. But the sun was hot and a wrong turn somewhere drew us way out of our way before we caught it, making us quite late for our get together. (A GPS is on our list for next year.) Good friends, however, are patient and we had a nice lunch in Lakeland, before heading north two more hours to get home.

Goings on at NCL
Our March wound up with several local events of note. The first was a Wednesday night concert in the clubhouse by a duo called the River Rats. Don and I aren't much into country, but we thought it'd be something Gma and Gpa would like. Well it just goes to show you that a good performance is a good performance in any category. The two guys, seniors themselves hailing from a place identified as Mountain Air, Arkansas, gave a most entertaining show blending comedy and music. All four of us had a real good time.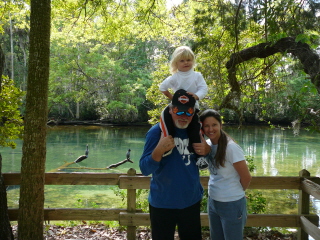 Next was a mid-week visit TO US by Tiffany and Kai. Gma, Gpa, Don and I drove down to meet them first at the Homosassa State Wildlife Park I'd visited with my cousin in February. Kai really enjoys animals, and he has a special fondness for birds, of which this park has loads. The weather this time was much nicer, and the otters which had hidden on my first visit were very actively swimming laps in their pool. However the manatees were more shy and the bird life more limited.

After our afternoon at the park, Tiffer and Kai came on up for a BBQ dinner and overnight affording us the chance for some multi-generational family pix.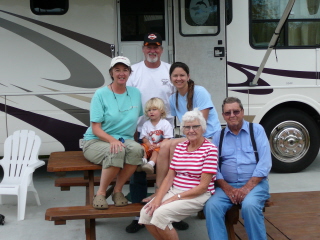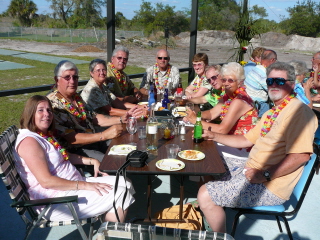 At the end of the month was NCL's final park-wide party of the season. This last blast is a potluck with a Luau, complete with roast pig. We'd missed it last year, which pained me because, if there's a theme we should be able to get into, you'd think it would be this one. Although it seems like we have spent a lot of time here this year, we have repeatedly been away for most of the big events. So I planned a couple of dishes to take that would be quasi-authentic Polynesian dishes (along with a backup in case it didn't come out right!), and shopped hard to find approximate ingredients. Of course our little motorcycle group couldn't resist a ride in the fine weather that morning, which of course got us back late, so it was all a rush in the end! I pressured Don into wearing proper Pacific pareos to the event, but I don't think a single person commented on his wearing a skirt!
Our First Poker Run
Finally on the last weekend of the month came the event Don had been waiting weeks for: our first poker run. Poker runs are pretty common fund-raising events in the motorcycle world. This one was organized by the local American Legion to benefit families of reservists posted in Iraq. About a hundred motorcycles gathered for the ride that would string together seven stops at biker friendly bars, restaurants and Legion Posts where the riders would collect cards in sealed envelopes, paying $10 per hand. At the end the envelopes would be opened, hands registered, and prizes awarded to the best four.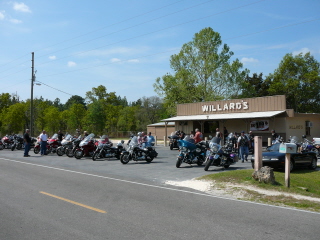 It was a beautiful day and the route covered ground familiar from our own wanderings. The pack was pretty well divided between what we still think of as "real" bikers (guys and gals with lots of tattoos and leather) and what I think of as middle-aged boomer-zoomers (in other words, us!). There were about a dozen bikes from NCL (accounting for a tenth of the turnout), and we are all in the latter category. Surprisingly, the brotherhood of the road seemed to have room for us all! It was a very friendly day, with plenty of mutual admiration of bikes and leathers. I did chuckle a bit at the overweight middle-aged rockers who wailed away on the bandstand at the final party as our prim activities director Pat (whose recent courtship with one of our Park bikers has her riding behind him in borrowed leathers and her red cowboy dance boots) covered her ears.
And speaking of ears, mine could hardly believe it when my name was called as third place winner! My prize was an impressive leather jacket already bedecked with an array of biker patches! I was the envy of all! Unfortunately, the jacket is a little big on me, but of course fits Don just fine. He suggests I will be able to better admire it on him! Maybe, but I for sure wore it home from the Legion Hall (despite the heat) which earned me lots of whistles and thumbs up as we roared away.
You know, I'm actually kinda getting addicted to the Harley rumble! Who'da thunk it?
Speaking of the Harley rumble, if your guts stir at all to the thought of riding free, be sure not to miss the current flick Wild Hogs. Even if they don't stir that way, it's a fun movie. Don and I caught the premier showing, and it is the first time in ages we've been in a packed theater where the audience laughed from beginning to end.
Labels: Family Time, Our first Poker Run