A Very Merry December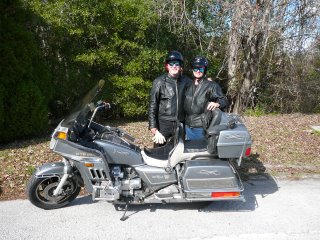 It was inevitable wasn't it? Give a guy an inch and he'll definitely take it where he can. We didn't have the RV back in Crystal River more than a day or two before the rumors of Don's new motorcycle endorsement made the rounds of the park. And we'd already noticed the old silver Honda Interstate sitting unused on the pad over in the oldest section of the park …right next to a bright shiny new one. By the morning of December 7th – our anniversary – Doug, the old cycle's owner and Don had initiated negotiations through Ellis, a Harley owner, and by the end of the day, the Interstate was sitting in our driveway.
Now we didn't exactly buy it. At 22 years old, the venerable old bike had an awful lot of years on it, even if it was fairly low mileage. Up close it turned out to have a lot more rust on it, and it was a discontinued model for which parts could be hard to find. But since it was just sitting there, Don was willing to go so far as to rent it on a month-by-month basis, just to see how I might take to being a biker babe.
That very first evening we rode it out the winding roads of Yankeetown to the Gulf. And it was grand! The sky and tree-tops whizzing by, birds flying overhead, the marshes rustling in the sea breeze…It was not unlike scuba diving where you are totally immersed in the natural world.
We rode it every day that week, on group rides with our neighbors and on solo runs along winding roads through the pine forests to the north. We were well and truly hooked.
Not that we publicized our new activity over our Christmas visit to Indiana!
Family Christmas
The Wilson clan celebrated Christmas the 15th & 16th this year, a little extra early thanks to Christmas being on a Monday. Don's Dad drove the car to pick us up at the airport, and he walked about the house without so much as a cane. Obviously he has been working hard on his recovery from his September surgery.
The annual Wilson Saturday dinner took place at nephew Dane and family's brand new house in Greenfield. Tiffer, Derek and Kai were also on hand, as well as cousins Tisha and her family, and of course Don's brother Greg, his wife Karen, and son Adam drove down from Valpo. Only Brooke, now living in Las Vegas was missing. I think this is the fourth "new" house I've had the Wilson Christmas in since joining the clan, but I think this is the one they'll be in for a long time to come! And on Sunday we all ferried down to Aunt Margaret's house in Shelbyville for celebration with Gma's side of the family. Since several of Aunt Margaret's children ride Harleys, there were some quiet conversations in out-of-the-way corner about our newfound enthusiasm!
Thanks to the early timing, we had a whole five days back in Crystal River to ride the Honda before repositioning ourselves to Clearwater for Christmas with the kids. Now two and talking up a storm, Kai was much more into the gift receiving side of things than last year. (And of course the indulgent grandparents complied.) Kai is one of the happiest and energetic children I have had the pleasure to play with. He has a definite preference for "outside" as does old Gz. One can spend hours in the front yard or back messing about with balls from golf ball size to giant soccer, and Christmas added "tennis", lacrosse and hockey to the activity list. He's not the greatest catcher in the world, but he throws and aims better than I do!
Santa finds the 2Cs
It was the day after Christmas that Santa found the two Captains. We were whiling away some time before a dinner get together with friends, and Don was complaining about how, on the old Honda, there really wasn't enough room for his big feet to manipulate the shifter. We'd stopped in a Honda dealer to see it the new models were any better than our antique, but nothing on display in the Honda, Suzuki, or Kawasaki line fit the bill.
So as we are driving down the road, I said, "So how's the room on a Harley?" And he said, "I don't know." Poof, on the right appears as if by magic Fletcher's, Clearwater's Harley dealer! We, of course, turn in.
The showroom must have had sixty bikes of various sizes, models and colors. The only thing really suitable for us two grande-sized captains (since I am not willing to hang on from the back fender) is the top-of-the line Ultra Classic touring bike. The salesman scooped us up right quick and let us sit aboard a shiny 2007. Sure enough, there was lot more room for Don's big toes. And with both of us aboard, the bike would balance with just one of the salesman fingers for support! It was a catchy sales technique, and Don was smiling (hell, he was sold on a Harley before we came in the door), but I was still leaning toward the quieter, smoother Honda Goldwing, of which (I rationalized) we could surely find one used (just not quite as used as our rental Interstate). Fortunately, the 2007 price tag wiped the smile right off of Don's face, and we were on our way out the door when the salesman said, 'Before you go, you ought to take a look at the one we just took in on trade."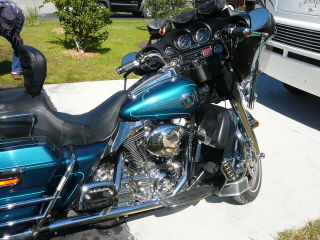 It was love at first sight. I tell you, I actually felt my stomach and heart go splat on the floor. It was a teal green (our mutual favorite color…even if we perpetually disagree whether it is a blue or a green) 2003 Ultra Classic, all duded up with most of the chrome accessories the Harley catalog has to offer! Dig this, it even had woven leather handlebar grips with trailing tassels. "It used to belong to the President of our local Harley Owners Group," the salesman explained. "He just traded up to a 2007."

I won't document the steps by which this vision of motorcycle loveliness became ours, but I will confess that we weren't ten minutes away after getting out the door when I heard the words – "That bike'll be gone in no time" – come out of my mouth! In two more blocks we'd called on the cell and put a hold on it, and the next morning we were in borrowed helmets taking a 70mph test drive (behind Scott our salesman) on the Bayside Bridge!
There was just one hitch. We couldn't take it home to Tiffer's. It was not so much that Tiffany didn't want us riding a motorcycle (after all, it is just one more wrinkle we put in her brow), she just didn't want Kai (or was it Derek?) to see it. On top of which, that afternoon was Kai's birthday celebration, and even we couldn't argue with the fact that it would not be cool to usurp center stage. And then there was the small dilemma of how to drive it and the RV back to Crystal River, since I don't drive either one.
So we left it at Fletcher's for a couple of days while we drove the RV home, returned the Interstate to Doug (after a farewell ride of appreciation), and made a return trip to Clearwater by car! Even then, we were not exactly home free, since Gma and Gpa Wilson were due at Crystal River with their RV New Year's day! There's nothing to make you feel like a kid again more than when you've got a secret you haven't told your folks!