A Busy November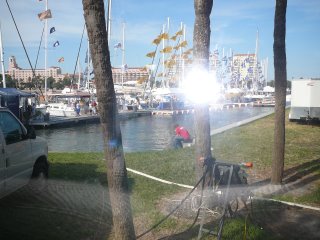 The St. Pete Boat Show -- Nov. 2-5, 2006
Such a deal we had at the St. Pete Boat Show! Unlike other shows where one has to fly in and stay in hotels, we were able to drive our coach in and park right on the show grounds! There were about ten exhibitor RVs in two rows right along the edge of the marina basin. There were even power hookups and water available. Many thanks to the Sail America guys for making it happen, and making it happen so nicely.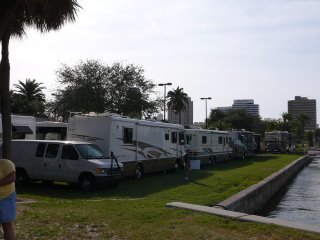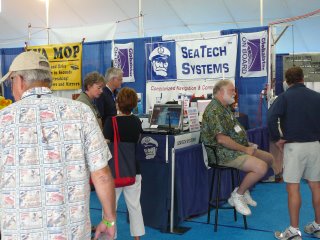 As in Annapolis in October, I was working the show for
Sea Tech Systems
. SeaTech sells The Cap'n electronic charting programs, Icom HF radios, Pactor modems, satellite telephones, weather fax software, etc all designed to work with PC computers on the nav stations of cruising boats. Although I am neither a computer genius or a particularly natural saleswoman, I do use all this stuff on board
Tackless II
(after Don has gotten power to it, of course!) , so I am in a good position to help customers consider what is important and what is not. This made my fifth boat show for Sea Tech, and I would finally say I'm beginning to get the hang of it!
In addition to working the booth, my friends
Kathy Parsons
and Pam Wall were both on hand, so we three reprised our Women & Cruising Seminars which were again a popular success. You may remember that it was the first Women & Cruising seminar we did in Miami last February that led to the Admiral's Angle column in
Latitudes and Attitudes Magazine
.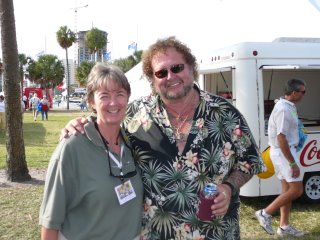 Speaking of
Lats & Atts
, Bob Bitchin, Jody, Woody, Dave and all the gang were on hand as they are at most of the Strictly Sail shows. Although St. Pete is not the biggest of the boat shows, it is traditionally one of the biggest of the
Lats & Atts Saturday night parties
where the Eric Stone Band rocks and Bob gives away free pizza and beer. Sea Tech always hands out lots of free goodies to the party crowd, so we were upfront and in the middle for most of the good times.
All in all the St. Pete show added up to a pretty good time for a week of work! Of course it didn't hurt that being practically in our back yard we had lots of friends come by: Dave, of our sistership
Soggy Paws
with our webmaster Sherry; Dr. John of the trawler
Knot So Fast
; Ron & Dorothy of the CSY
Memory Rose
; Diane and Alex from Hernando Beach who are hunting for a boat; Carey, formerly of
Cajun Waltz
, and his sister Ann; and Nurse Dee from St. Pete. This kept Don pretty busy escorting them to and from the coach for bathroom, air conditioning and cold beer breaks!
Reunion Time -- Judy and Bryan do the SSCA Gam with the 2Cs -- November 7-14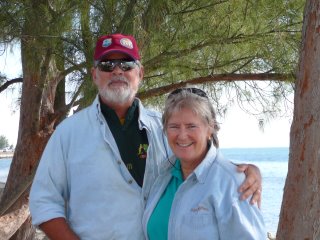 From the Boat show, we drove up to Clearwater and parked in our kids' side yard with just a day to prepare for a week-long visit by Judy and Bryan of
Ursa Minor
. Many of you know that Judy worked with me in the charter business for several years and skippered
Tackless
one season while Don worked with me on
Whisper
. We'd last seen each other in
Margarita, Venezuela
in 2000 and our kids' wedding in the
Virgin Islands
in May 2003.
Judy and Bryan recently retired from the charter business and have been in Trinidad several months, deep in preparation for taking off in our wake to cruise the South Pacific. We planned this visit so that they could travel with us in the RV to the SSCA Gam the week after St. Pete. Of course, they had to fly into Tampa in order to meet our grandson Kai. And we weren't the only ones who wanted "Aunt Judy" to meet new family. Old friends from St. Thomas Terry and Karen Galvin, now living in Sarasota, orchestrated a wonderful dinner at their home so we could meet their new son, nine-year-old Daniel. It's amazing what happens when you do see folks for a decade!
Early the next morning we were on the road to Melbourne so that Judy and Bryan, new to the joys of HF radio email, could attend the special Sailmail Seminar offered the day before the Gam. Don and I dropped them off and parked the RV in a park right off Eau Gallie Blvd. Positioned for snow bunnies wanting easy access to the beach, it was a little pricey, but it put us less than a mile from the Gam. Several of our friends park their C-class RVs right on the streets around the Gam, but ours it a little to big to get away with that!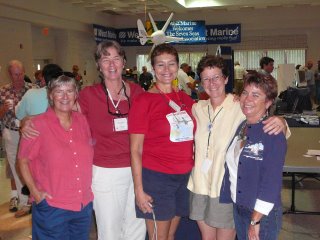 The annual three-day Gam (def: "a social visit between sailor at sea") is the
SSCA
's main event of the year, and all four of us had our schedules full with seminars we wanted to attend and all the various social events. Don and I also were scheduled to give presentations: me on writing articles while cruising and Don on the care of cruising watermaker. A highlight for me was meeting Gregory Newell Smith, author of a wonderful new collection of essays called
The Solitude of the Open Sea
. Plus there were so many people we knew and wanted to visit with, like many of the women who correspond with me for my Admiral's Angle column (including a few new recruits!) as well as not one but two get-togethers over dinner and breakfast with fellow CSY owners!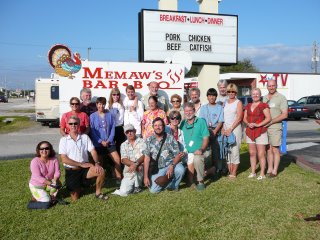 We'd wondered how well it would work out having four people on our 34' coach for that long, but I guess because we were all boaters and accustomed to small spaces, it worked out great. It probably didn't hurt that each couple could go to bed with their own TV, especially since I noticed we didn't choose to watch remotely the same programs! After the Gam, we managed to get Judy and Bryan back to Tampa in time to catch their 8:30 am flight to Michigan by staying overnight in a park just a few miles from the airport.


Thanksgiving Gatherings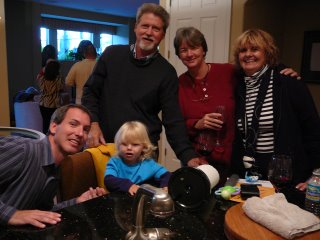 We had less than a week to recoup from all these goings on before it was Thanksgiving weekend. Our family (by which I mean the kids!) had been invited to a friend's brother's home, and the invitation kindly included the senior generation. At first I was a bit disappointed because, well, there's nothing like the tradition of cooking your own turkey, picking at it in your own kitchen, and stewing soup up from the carcass afterwards.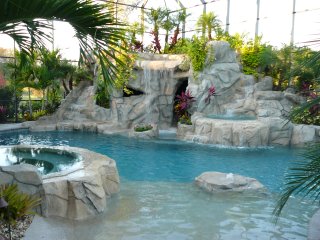 But, what an experience! It was kind of like going to a movie star's home! The house was full of well-thought out indulgences like the delightful room for the one year old, with hand-painted murals capturing a child's dreamscape from morning to night and a Polar Express train circling the room on a track suspended from a starry ceiling or the playroom for the grown-ups, with movie theater seats before a huge screen with
trompe d'oeil
murals and original classic movie posters on the walls. The piece de resistance, however, was the elaborate screened-in grotto in the back yard with waterfalls, jacuzzis, pools and koi pond all knit together with luxuriant tropical plantings. I haven't seen the likes of it even at some of the most upscale Caribbean resorts! As you might guess the catered dinner was elegant and plentiful. We all left as stuffed as one should be on Thanksgiving and each toting a bag each of tasty leftovers to stock the fridge!
On the weekend we drove the RV north up to the St. Josephs State Park in Florida's Panhandle in order to rendezvous with Dennis and Lisa of
Lady Galadriel
, who drove down from their own family Thanksgiving gathering in Alabama. After two years cruising and traveling with them in
Mexico
, our paths had parted, with Dennis and Lisa finding their way through the Canal and the Caribbean to Annapolis where the boat has undergone a major refit and the crew has improved the cash flow by working there for West Marine!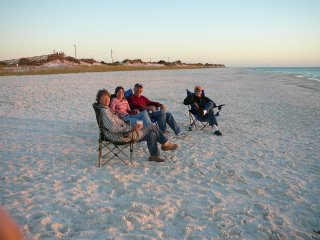 How great to see them and what a great place to do it! Mother Nature conspired by sending us perfect fall weather just as all the other folks' holiday weekend ended! For two days, we had the park virtually to ourselves to enjoy beach walking and cycling, sundowners and blazing campfires, not to mention the great chemistry of good companionship!
Motorcycle School!
That's not a typo, nor an insert from somebody else's blog. When we left the serene beach of St. Joseph's, we had to hurry along the road to downtown Ocala, where we parked the coach in a lot at Central Florida Community College so Don could roll out of bed in the morning and onto a Suzuki 250 as part of a three-day class to get a motorcycle endorsement on his Florida driver's license. Although we didn't have a motorcycle, a little research had revealed that one can RENT a HARLEY by the day from Harley Davidson dealers worldwide. That one might want to has been prompted by our neighbors at NCL who have a Harley trike. Don, who once owned and rode a 750 Triumph Bonneville in his younger, wilder days, has been reminiscing since we closed on the lot. I, who have had all but no experience (two rides in my own younger (not-so-wilder) days), remained skeptical, but open-minded.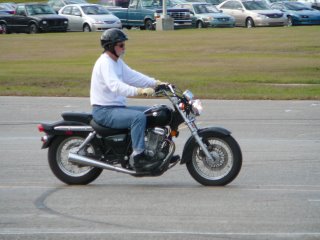 Need I say he passed!