What's Up with the Ground Hog????
Cousin Patty Visits
Sometime in the fall, my cousin Patty made plans to visit us during February. I was pretty excited because she hadn't yet had even a glimpse of our new life as RVers and grandparents, let alone bikers. Plus I was eager to show her the natural Florida we had discovered around Crystal River. All Patty asked for was a guarantee that it would be warm and sunny. I told her that while the odds weren't bad and while it was a good bet that it would be warmer here than Middletown Springs, Vermont, even in Florida, guarantees were not wise.
No truer words were spoken. We collected Patty from the Tampa airport and took her directly to lunch at a favorite restaurant, Frenchy's Saltwater on Clearwater Beach. The sun was out that afternoon, but it was not warm. After our grouper sandwiches, we went out to walk a bit on the beach. Clearwater Beach is the quintessential beach, the largest expanse of sugar white sand I have ever seen. That afternoon there was hardly a soul out because the chill wind was driving the sand in a stinging blizzard that even the most determined souls (us) couldn't face for longer than twenty minutes!
That night, after a fine family dinner where Patty got her dose of our grandson Kai, we went "home" to the coach which was shoe-horned into the kids' yard. In bed we turned on the TV to see if the weather report had magically brightened! Hardly. Thunderstorms were forecast for the middle of the night for the whole area, and there were actual tornado watches out for the north part of Citrus County, right where we were headed the next day!
Sure enough we had lightning and heavy rain in the night! I kind of like rain on the coach -- the pitter patter on the roof and all, I swear the ONLY rain we get in this part of Florida occurs when we are parked in the kids' side yard, where our heavy RV is steadily gouging out huge ruts in their lawn. We woke to a chill overcast outside and the nagging ache of swollen glands on my inside! ANY OTHER WEKEND and I would have rolled up in my comforter with a good book and wallowed in being sick, but Patty was here and I had a full agenda for us. I was NOT going to be put off!
It was on our way north that Patty got the phone call from her husband urging us to call her mother and reassure her that we weren't casualties of the tornadoes! A call to our neighbor at NCL reported many inches of rain and several trees down, but two strong twisters had touched down in north Lake County, less than an hour's drive east, damaging more than 1500 buildings and taking nineteen lives! Holy cow, the warnings had come about!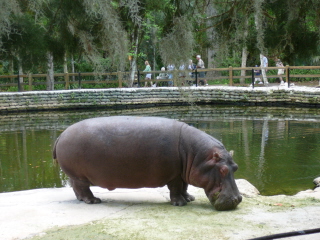 The dank gray weather did not get any better the whole weekend, and neither did whatever bug was trying to pull me down, but we ignored both, and everything on my agenda got done. On her first afternoon, Patty and I visited the Homosassa State Wildlife Park, which has a collection of Floridian wildlife, from wild cats to shorebirds, deer to snakes, otters to owls, and of course manatees to alligators. Oh, yes, and a for-real two-headed turtle! The only non-native animal in the park is a hippopotamus named Lucifer. Lu, a retired movie star, came to the park when it was a more generic zoo. A very popular fellow, he survived the conversion by being made an honorary citizen of the state. I don't know, there's something wonderful about a hippopotamus. I'm glad he's there.
Patty was keen to try some kayaking, so Saturday, we reprised the three-hour kayak trip down the Rainbow River. This time, thanks to the gray and chilly weather, we had this beautiful river largely to ourselves. As before, we saw lots of turtles poking their heads from the surface, anhingas and cormorants drying their feathers on shore-side branches, and white ibis digging in the weeds. This time we also saw a huge flock of wild turkeys!
The other major activity I wanted to fit in was a walk in the trails behind NCL. Our home RV park, Nature Coast Landings, backs up to the Felburn Park Trailhead and Withlacoochee Bay Trail. This little park includes the five-mile bike trail to the Gulf which Don and I discovered on our first visit to NCL and which at the time had a great deal to do with winning us over to the area. The Trailhead Park itself, a collection of picnic tables with a playground, didn't reveal its hidden treasure to us until this past fall. Lurking behind the playground, down an unmarked and unmapped dirt path, is a whole network of walking trails! The glimpse of the Florida Barge Canal we might have anticipated, but who would have guessed that there was a whole lake back there surrounded by whispering reeds! I want to call it untouched by man, only its shape, a network of rectangles, suggests it may have once been a quarry. Still, now it is wrapped by scrub and forest and is a great refuge for birds and wildlife. Every time we go we see strands of animal tracks threading the trail before us. Don and I have taken to a mixed program of morning exercise, alternating between the bike trail and long walks in this park. Patty, being a Vermonter, might legitimately feel her state has a corner on natural beauty. I am quite sure that she, just like I, never imagined Florida could have such secret niches.
The only activity Patty missed out on was a ride on the Harley. It was offered, but it just didn't seem to be high on her priority list. I'm sure it was the cold weather. The other activity that probably wasn't high on her activity list was the Superbowl, but even she realized there was no getting out of watching the Indianapolis Colts in their moment of glory. We made up a huge batch of chili and Patty cheered for the Bears just to add more spice!
It was inevitable, of course that the Monday morning drive to Tampa airport took place in beautiful sunny, if still brisk, weather. When she got home, she said the temps in Vermont were about the same as she'd had in Florida.
What can I say?... I told her there were no guarantees!